Review by Danielle Boss
Performance Review: The Floor is Lava by Alex Riad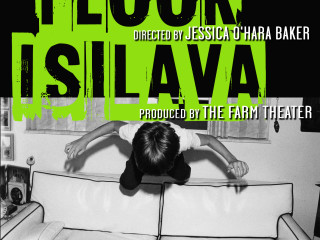 The Floor is Lava is a masterfully written play by Alex Riad and directed by Jessica O'Hara Baker. Presented by The Farm Theater, The Floor is Lava makes its worldwide premiere at the Planet Connections Theatre Festivity in the Flamboyán Theater. The play opens in the luxurious basement of multi-millionaire, Tom, (played by Ian Poake) CEO and creator of the new social media app Socal. 
The story takes place on the night of Socal's release party, in the basement of Tom's elaborate mansion, which is located in Silicon Valley. Sean (played by Vin Kridakorn) who, ever since high school has always been the most successful, is bitter over Tom's now bustling success, especially since Tom was always the "loser" back in school. Sean reluctantly reveals to his friend, Matt, (played by John DiMino) how he recently got laid off at his successful PR firm based in New York City. Sean's jealousy and bitterness over Tom's success causes him to lash out on all of his friends, including Sean, Tom, and Kat (played by Molly Collier.) As a frustrated millennial, Sean detests the ubiquity of social media and the power that it holds over his generation. Sean eventually reveals how he "doesn't understand" social media and its prowess, and how the whole concept makes him feel depressed. He argues how social media distracts people from the real world, and how he would rather have real human connection rather than pseudo-connections through a screen. Written for the new generation who are constantly glued to the screens of their devices, The Floor is Lava is a brilliant play that dares to make us ask ourselves, "How much does social media dictate my life?"
Alex Riad's screenwriting experience emanates throughout The Floor is Lava. What is particularly charming about The Floor is Lava is how the play felt like a live action television show with its almost too perfect comedic timing of character's entrances and exits and the interesting dynamic between the four seemingly different characters, giving off a "sitcom like" vibe. With no set changes throughout the duration of the show, the action of the play is propelled through the use of Riad's masterful and witty dialogue. Valeri Dursi and Aliana Hernandez's set design is dazzling. The elaborate set created in order to bring the world of the play to life is not only breathtaking but also aesthetically pleasing. The props used are not only for visual effect but also interestingly play a role in the plot. One example of this is the use of the bar, which serves as a convenient way for characters to avoid discussing uncomfortable subjects by disrupting conversations with a curt, "Want another drink?"
Vin Kridakorn is mesmerizing in his role as Sean. Kridakorn's phenomenal acting skills are captivating and enviable, with his perfect capture of internal conflict and evocation of conflicting emotions, his precise shifts from different emotions in a beautiful yet believable way, and his physical portrayal of a character who is at his wit's end. Kridakorn's use of body language to show the audience his character's inner despair is elegantly subtle, such as the way he moves a glass in his hands or the way he sits down on a chair mid-conversation. DiMino's portrayal of Matt, Sean's pothead best friend and confidant, is adroit and charming. DiMino's musical voice brings charm to his role with the way in which he plays with pitch, volume, and even his laugh. Even the way DiMino walks around the stage is a reflection of his character's endearing and easy-going personality. Ian Poake and Molly Collier are astonishing in their respective roles as Tom and Kat. Between Poake's distinct mannerisms as Tom and Collier's tenable reactions, the cast of The Floor is Lava oozes with talent. The interaction between all four friends is natural, humbly realistic, entertaining, and most importantly, palpable.
Thought provoking and highly entertaining, The Floor is Lava covers a myriad of complicated social issues such as depression, suicide, jealousy, success, the tribulations of being a millennial, technology's harrowing influence, the uncertainty of company start-ups and taking chances, loyalty, and the importance of friendship. With social media and its repercussions being a new topic up for discussion, The Floor is Lava is not only highly entertaining but also pertinent for modern audiences. This play brings to light how time, distance, and envy can cause rifts in the oldest of friendships. The Floor is Lava is funny, heartbreaking, and exquisite. The proceeds from the production will be benefitting Girls Who Code, a national non-profit organization dedicated to closing the gender gap in the field of technology. In a society that is dominated by the world of social media, this play is a must-see.
Planet Connections is located at the Clemente on 107 Suffolk Street, NY, NY. For more information regarding show dates and purchasing tickets, visit the Planet Connections Festivity website.